Below is a summary of courses and workshop opportunities offered, and schedule information. If you would like additional information on workshops or to pre-register for a class, contact Heidi Thorsen at [email protected]
"Through Your Eyes" memoir writing courses are structured around Guided Autobiography principles of writing your life stories.
Become certified as a Guided Autobiography Instructor in 8 short weeks. You will love the experience of facilitating your own classes. You will be equipped with knowledge, materials, and ideas, to start your own business or to reach members of your community or organization. Click here for more information. Classes are held online via Zoom Conferencing.
A traditional 8-week course. This course presents the most thorough review of central themes arising from a lifetime of experiences. Individuals have the opportunity to explore where they have been and where they are going – a wonderful reflection for personal growth or documentation of one's legacy. The motivation to write weekly, and the wealth of understanding that arises from sharing and hearing other class members' stories in a safe and confidential environment is a magical experience.
Class location: Poulsbo, WA.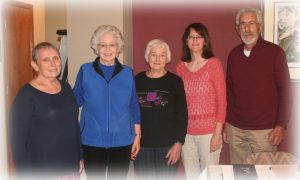 A traditional 8-week course. This course is for anyone who has completed Course 1 and is compelled to keep writing. Course 2 presents a broader variety of themes and also goes deeper into the craft of writing. Consider a few of the writing techniques to brush up on: appreciating the voice you bring to your writing, exploring point of view, writing with dialogue, and editing made easy. This course continues the motivational aspect of writing weekly and exploring the details of a life well-lived.
Class location: Poulsbo, WA.
Following the familiar structure of Course 1 and 2, the Level 3 Course continues to inspire legacy writing. This course takes a different instructional approach. As you have now gathered an impressive collection of stories, Courses 3 offers a weekly study of short, published memoirs by authors from around the world. Class participants engage in discussions on the qualities and writing craft that make these selected published stories special. Using a rubric that follows the writing craft all have learned and applied to their own writing, discussions are rich with comparisons to your collection. In addition, a more indepth look at your own editing and publishing is discussed in this 8-week course. The foundation of the Through Your Eyes program, based on Guided Autobiography principles and research, continues each week with a weekly theme and last half of session story sharing. Twenty-three stories are in your collection after this course. However, there is no limit to the number of stories you may be inspired to write.
1 day; 4-hours The focus of this workshop is to expose participants to a minimum of 10 major life themes that could each be developed into a two page or longer story. Each theme is presented and explored by participants who then utilize 10 -15 minutes of brainstorming time to develop initial thoughts on each theme presented. Those initial thoughts are then shared briefly and discussed among class members before moving on to the next theme. This is an ideal workshop for someone with a busy schedule who is motivated and desires to write their life stories on their own time.
Holiday Memoir Writing Workshop 1-day
Do you remember Holiday traditions from your childhood, or have a Holiday story that needs to be told? Have you considered sharing this writing experience with your child or grandchild? In this 3-hour workshop participants will be engaged in activities to enliven their senses as prewriting for a Holiday memory story. Time will be given in class to outline, write, and finally share that Holiday story. Support, encouragement, and ideas for continued writing will wrap up the afternoon. This class is for ages 10 – 110 and is a great gift idea. This is a valuable experience for individuals, or rewarding to partner with your child or grandchild in this process. How fun to see the Holiday experiences Through their Eyes.
This session is a one, or possibly additional week session for multi-generational participants to enjoy together. Each participant writes their own story, but sharing is with the entire group. This is scheduled upon request.
This would be scheduled upon your request and would involve any level of help you desire in writing your life story on your own. This could include inspirations, weekly prompt and progress checks, getting started planning, or editing. You can create the service you would like.